ELECTIONS
If you have any issues with your polling location, please contact the Pulaski County Election Commission at 501-340-8383 or PCEC@votepulaski.net.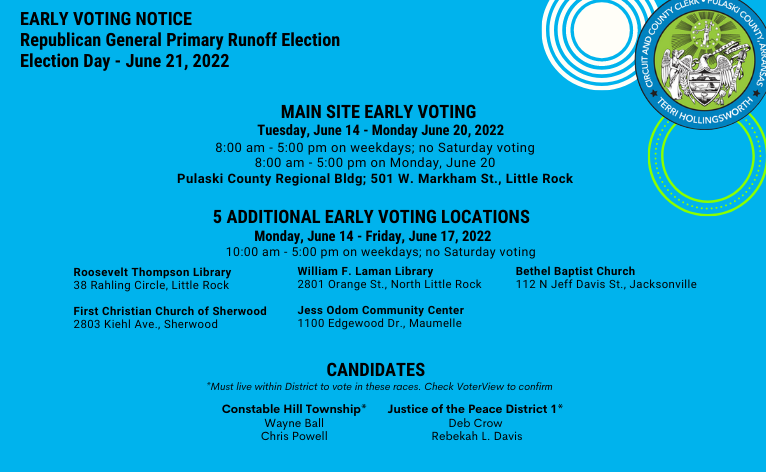 2022 CANDIDATE FILING FORMS
Candidates running for county positions must file with the county clerk. The filing period for a political party candidate to be on the ballot in the May 24, 2022 Preferential Primary Election begins at noon on February 22, 2022 and ends at noon on March 1, 2022.
2022 Running for Public Office Handbook
Candidate Statement & Signature
2022 Elections
Sherwood and Jacksonville Municipal Candidate Filing – 05/23/22 - Final
Preferential Primary Candidate Filing – 03/01/22
2021 Elections
Notice of Election: CALS Special Election
Notice of Election: Annual School Election
Notice of Election: Little Rock Special Election
2020 Elections
Notice of Election: General Election Runoff Information
Notice of Election: General Election and Annual School Board Election
August 7, 2020 Executive Order EO 20-44: Public Health Emergency Concerning COVID-19, as Declared in EO 20137, For the Purpose of Holding Federal and State Elections
Notice of Election: Jacksonville Special Election June 9, 2020
Jacksonville City Council (Ward One, Position One) Special Election Candidate Filing List
Notice of Election Preferential Primary/Nonpartisan General and Annual School Election - March 3, 2020
Amended Notice of Election District 34 Special Election March 3, 2020
Notice of Election District 34 Special Primary Election
Notice of Election District 34 Special Primary Election
2019 Elections
Notice of Election: State House District 36 Special Primary Election Runoff
Amended Notice of Election for State House District 36 Special Primary Election
Proclamation Calling a Special Election to Fill a Vacancy in the Office of State Representative for District 36 and Setting Election-related Deadlines
Notice of Election: Annual School Election - Little Rock School District - November 5, 2019
Notice of Election: Annual School Election - North Little Rock School District - November 5, 2019
Notice of Election - Annual School Election - Pulaski County Special School District - November 5, 2019
Annual School Board Election Candidate List
2020 Press Releases
Press Release: General Election Runoff Information
Press Release: Early Voting Begins June 2, 2020 and Important Election Information
2019 Press Releases
Important Dates, Deadlines, and Information for State House District 36 Special Primary Election
Annual School Election Dates and Information - North Little Rock School District (NLRSD) and Pulaski County Special School District (PCSSD)