Real Estate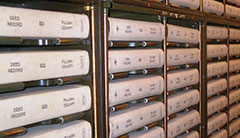 NOTE: Beginning on Monday, March 16, 2020, public access to the Pulaski County Courthouse is restricted through March 31, 2020, to limit public exposure to COVID-19.
The Pulaski County Judge has extended the restrictions on public access to county buildings and other precautions through May 31, 2020.
The Pulaski County Circuit and County Clerk's employees are working weekdays 8:00 a.m. to 4:00 p.m. Business should be conducted online, by phone, or email if possible. Please contact the appropriate department for more details.
---
How to sign up for the Pulaski County Clerk's E-Recording Portal
Click Here for detailed instructions
---
Real Estate Department staff record various real estate-related documents such as deeds, mortgages, and leases. They also record certain documents not related to real estate, such as notary bonds and certificates of military discharge.
Contact:
(501) 340-8433 or realestate@pulaskiclerk.com
Charts
Forms
Notices