Voter Registration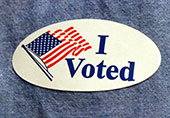 The primary goal of the clerk's Voter Registration Department is to maintain accurate voter registration records for Pulaski County. In keeping with this goal, department staffers are responsible for processing new voter registration applications and registration change forms. They also distribute and receive absentee ballots. The clerk's office does not provide services related to the act of voting, such as selection and administration of polling places, supervision of poll workers, and the counting of votes. Those services are instead provided by the Pulaski County Election Commission.
Contact
(501) 340-8336 or vrcr@pulaskiclerk.com
Check Your Voter Registration >
Frequently Asked Questions
If you have questions concerning Marriage Licenses, please refer to the FAQs section.
Charts
Forms
Notices