Real Estate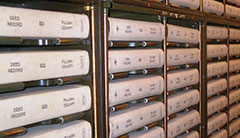 Real Estate Department staff record various real estate-related documents such as deeds, mortgages, and leases. They also record certain documents not related to real estate, such as notary bonds and certificates of military discharge.
Contact:
(501) 340-8433 or realestate@pulaskiclerk.com

Frequently Asked Questions
If you have questions concerning Real Esate, please refer to the FAQs section.
Charts
Forms
Notices